Series 70: eSTS 800 A - 1200 A
The LayerZero Power Systems Series 70: eSTS is a Static Transfer Switch, designed to switch between multiple power sources very fast - less than a quarter of an electrical cycle. The eSTS features a solid-state transfer switch that automatically or manually provides static transfers between two AC sources. The eSTS is a MISO Configuration (Multiple Inputs, Single Output), and is ready to accept either 2 or 3 power sources. If the primary source goes out of specification, eSTS transfers to the secondary (backup) source.
1200 A eSTS Static Transfer Switch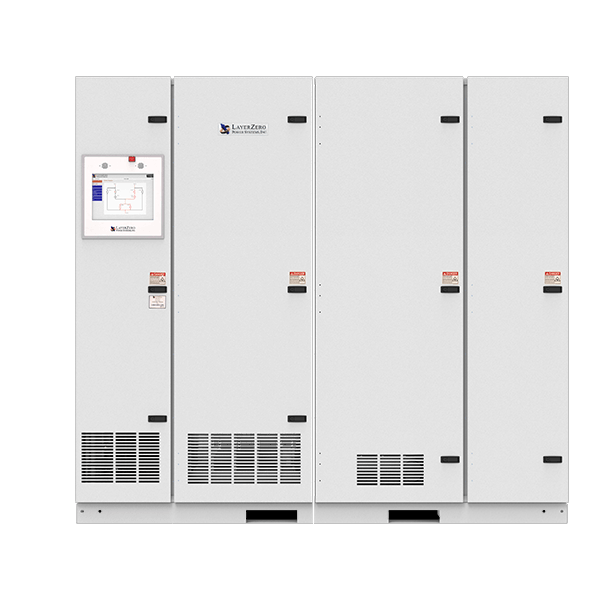 Select the Doors to Open
eSTS Product Overview
The Series 70: eSTS Static Transfer Switch contains a control section and circuit breaker section.
The control section contains the System Control Data Boards, SCR Gate Drives, a Redundant Power Supply System, an IO System, and VPN Router. The circuit breaker section contains SCRs, Snubber Circuits, Heat Sinks, and Circuit Breakers.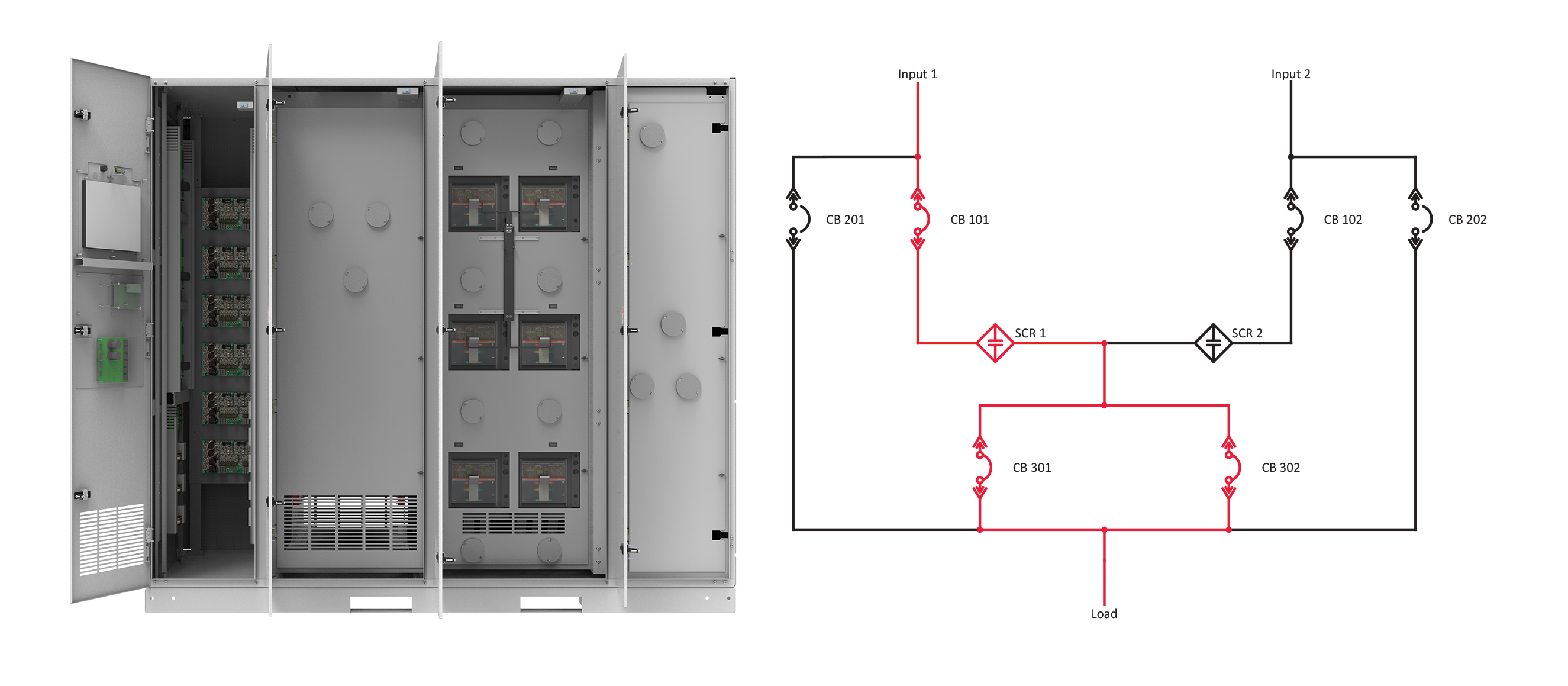 Select a Section to Highlight
eSTS Mechanical Overview
Reliability, Safety, Convenience, and Monitoring Features
eSTS Value Engineering
Connectivity Options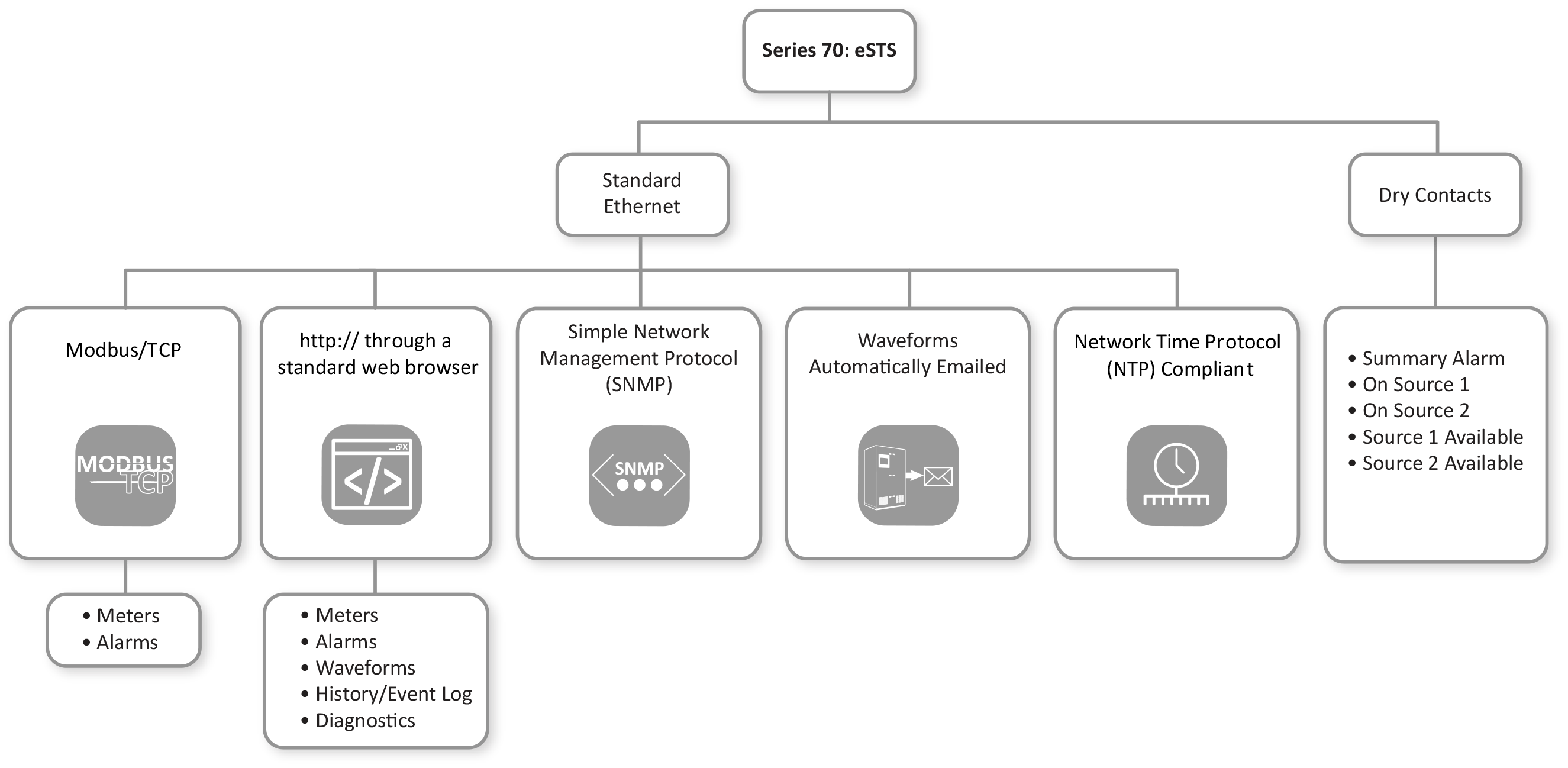 eSTS Technical Specifications
eSTS Models with Withstand Ratings
120/208 V
480 V; 480/277 V; 415/240 V; 400/230 V; 220/380 V
600 V; 600/347 V; 575 V
150 A
150kA; 100kA; 65kA
150kA; 100kA; 65kA; 35kA
100kA; 65kA; 35kA; 25kA
250 A
400 A
600 A
800 A
100kA; 65kA
100kA; 65kA; 50kA; 35kA
42kA; 35kA; 25kA
1200 A
100kA*; 65kA; 50kA
42kA; 35kA; 25kA
Mechanical Characteristics
150 A - 250 A
400 A
600 A
800 A
1200 A
Heat Dissipation
4,750 BTU / Hr
7,000 BTU / Hr
9,500 BTU / Hr
12,500 BTU / Hr
24,000 BTU / Hr
Weight
1,350 lbs
1,400 lbs
1,500 lbs
1,950 lbs
5,500 lbs
Dimensions
36"W x 36"D x 80"H
48"W x 36"D x 80"H
58"W x 36"D x 80"H
96"W x 48"D x 90"H
eSTS Gallery
eSTS Brochure Download
How To Buy

Find My Local Representative
*Select "Allow LayerZero.com To Know Your Location" when prompted