LayerZero Announces Zen Power Quality Monitoring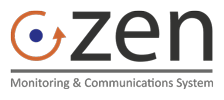 Aurora, Ohio (November 16, 2015) - LayerZero Power Systems has announced the release of Zen Power Quality Monitoring. LayerZero Zen is a real-time power quality monitoring hardware & software suite for critical facilities. Zen is designed to allow facilities to gain a deeper understanding of their power distribution infrastructure, pinpoint potential threats, and maximize uptime and reliability. Highly configurable with both low-cost and advanced configuration options, Zen is fit for both small and enterprise critical power applications.

Local & Remote Viewing Options For STS, PDU, and RPP
Zen provides local monitoring with either an LCD panel or touch screen display. Remote monitoring includes connectivity options for Ethernet, Bluetooth, and SNMP. In addition, Zen synchronizes with network clocks via Network Time Protocol (NTP), allowing for post-event reconstruction for root-cause analysis. LayerZero Zen is available in two variations, Zen SSQM (Static Switch Quality Monitoring) for Static Transfer Switches, and Zen PDQM (Power Distribution Quality Monitoring) for Power Distribution Units and Power Panels.

LayerZero Zen Monitors Your Entire Power Distribution Infrastructure
LayerZero Zen features a voltage monitor, multiple current monitors, power monitors, and power quality monitors. There is one voltage monitor per unit, which monitors the voltage of every phase of every pole. Current monitors are located at the inputs, transformers, and outputs. Power monitors and power quality monitors near the outputs. When the time clocks of multiple devices are synchronized, facilities gain the ability to view a system-wide picture of all power distribution activity in real-time.

Zen SSQM Overview
Zen SSQM consists of dedicated hardware and software that is specifically designed for monitoring the health and status of LayerZero Power Systems Static Transfer Switches. Zen SSQM monitoring hardware is located within the touch screen display processor. Voltage and current monitors are located after the input circuit breakers, and after the SCRs (Silicone Controlled Rectifiers). Waveform capture automatically provides a picture of every source transfer and power quality event.

Zen PDQM Overview
Zen PDQM consists of expandable hardware and software that allows facilities to monitor the health and status of power distribution downstream of the UPS/Static Switch. Zen PDQM monitors voltage and current after the main circuit breaker, with optionally power quality monitors located on the mains input and on subfeed/branch distribution. LayerZero Zen PDQM monitors every pole of every circuit breaker output, and automatically provides a picture of every power quality event.

Zen an advanced power quality monitoring suite that is designed and built specifically to maximize power reliability in critical facilities. LayerZero Zen is available in all LayerZero Power Systems products. For more information, please contact LayerZero Power Systems.
Contact:
LayerZero Power Systems, Inc.
1500 Danner Drive
Aurora, OH 44202
440-399-9000
https://www.layerzero.com